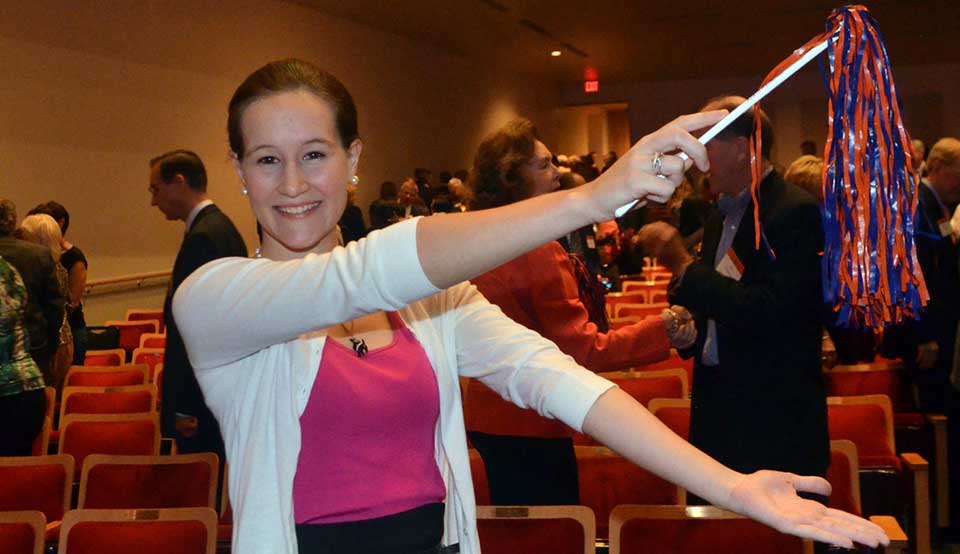 Because of You
You — the 384,752 UF contributors — are changing the world for the better, starting in Florida and extending throughout the nation and far beyond. With UF's land-grant mission comes the responsibility to use teaching, research and service to solve the greatest challenges of our time and to inspire and prepare the next generation of great leaders. In medicine. In the arts. In technology. In education. In business. In government. UF's mission also compels us to envision and shape a tomorrow where people everywhere can live healthy, abundant and meaningful lives. Florida Tomorrow helps fulfill this vision.

All Creatures Great and Small
If your cat has cancer, ferret has the flu or iguana is ill, UF's small animal hospital might be what the veterinarian ordered.
The hospital was made possible by $4.4 million in private gifts, matched fully through the state's matching gift program and supplemented with additional state facilities funding. The single largest private gift supporting the project was a $1 million donation from the Robin Weeks Estate. The facility has answered the need for an expanded hospital since animal patients have grown from 3,000 a year to about 15,000 a year since the college first began treating patients in 1978.
The new small animal hospital has state-of-the-art equipment and includes more examination rooms, larger treatment areas, an expanded intensive care suite and a cancer referral center with a linear accelerator to provide radiation therapy.
To support the College of Veterinary Medicine or its animal hospitals, visit www.vetmed.ufl.edu or call 352-392-2213.

For Our Children and Grandchildren
Jerry and Judy Davis helped jumpstart UF's cancer program in 1998 with a $5 million donation. Eleven years later they stepped in again, donating an additional $21 million to help support the Shands Cancer Hospital at UF.
The endowment they created supports teaching, research and programs, with special emphasis on research in lymphoma, breast cancer, bone marrow and gastrointestinal cancer. Their donation also played a role in the construction of the Shands Cancer Hospital, which opened in 2009.
"It may not be in our lifetime. It may be in our children's or grandchildren's lifetime. If we can improve cancer care and research, maybe this university can play a role in ending this disease," Jerry Davis said before losing his own battle with cancer in 2010.
To support cancer research or the UF Shands Cancer Center, visit cancer.ufl.edu or call 352-273-8010. To support the Shands Cancer Hospital at UF, visit ufandshands.org or call 352-273-9620.

The Great Equalizer
When Eugene Pettis chose to attend the predominately white University of Florida in 1978, it was proof he had moved beyond his past.
Beaten by two white teachers in the sixth grade, Pettis says he was put "on an incline of racial discrimination and hatred." It took intervention from teachers and family to turn him around in high school, and he eventually made his way to UF.
Pettis, now a lawyer in Fort Lauderdale, says UF was critical to his development. He gained leadership skills and learned how to get along with people from all walks of life through what he calls "holistic education."
"There is excellence in the classroom, but UF also gives you great real-life experience," he says.
That's why Pettis and his wife, Sheila, have donated more than $1 million to UF. Their most recent donation, an endowment for the Black Law Student Association, will help fund activities where members gain professional skills.
"Education is the great equalizer," he says. "What you gain with it, no one can take from you."
To support law-school programs such as the Pettis Family Fund, please call 352-273-0640.

Taking Care of Business
The need was clear: graduate courses were scattered among three different buildings, no space existed for corporate recruiters to hold job interviews, graduate students had no place to hold group project meetings, there were no rooms equipped for students to trade stocks and bonds, and the list went on.
The Warrington College of Business Administration's 1,400 graduate students, about 100 faculty and almost 40 staffers needed some relief. Dean John Kraft put out the call, which Bill and Hazel Hough of St. Petersburg answered in 2007. They made a $30 million gift — $5 million of it helping build William R. Hough Hall to house the Hough Graduate School of Business. The remaining $25 million enhances and expands graduate business programs.
The 100,000-square-foot facility today includes classrooms and program offices as well as meeting space and career development and counseling centers.
"I consider this a very important step that will help us move into the ranks of the top 25 business schools in the country," says Selcuk Erenguc, associate dean for graduate programs in the college. "We're so grateful to Mr. and Mrs. Hough for getting the ball rolling."
To support the Warrington College of Business Administration, contact Jon Cannon at 352-392-0381 or jon.cannon@warrington.ufl.edu.